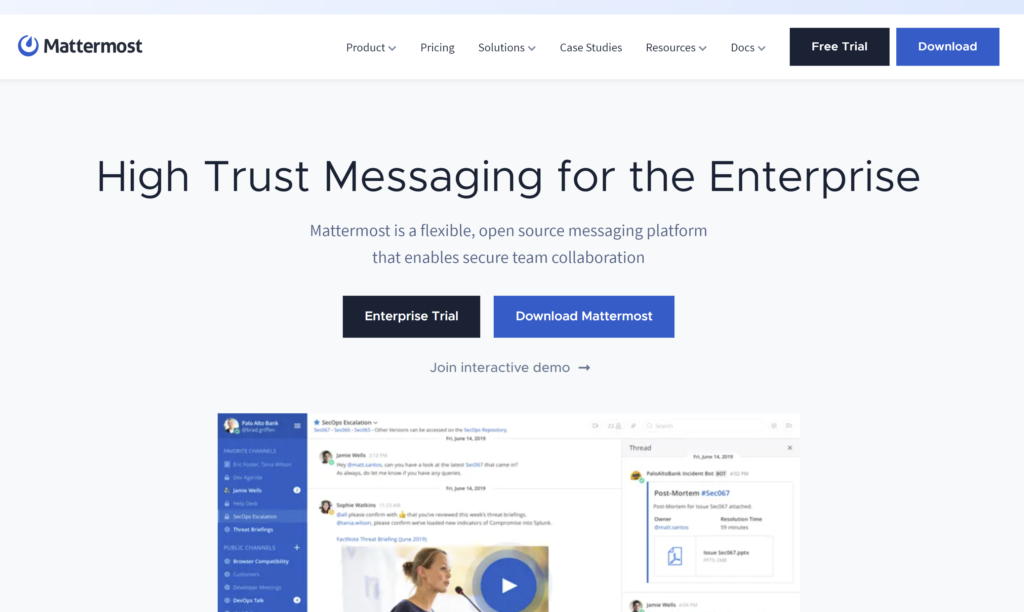 Slack probably doesn't need a long intro. It is one of the most popular communication tools combining chat, direct messaging and some extra functionality.
It grew very quickly from a small Canadian start-up to NYSE traded company with $17.2B valuation (on 17 July 2020).
Slack is a great collaboration tool that many people like a lot. However using Slack you store your business data with a SaaS company hence have limited control over it:
You can't take Slack and install it on your own server
Slack will always have access to your data
Finally you have pretty high level of lock-in, so if Slack Technologies, Inc. decides to raise their prices you are pretty much just have to swallow it and pay
Since you landed to this resource, you probably wouldn't mind to have something like Slack, but open-source and hosted on your infrastructure?
The good news – it is possible with Mattermost.
Mattermost is an open-source and self-hosted Slack alternative. It positions itself as a "High trust messaging tools for enterprise", but in reality can be perfectly used by smaller businesses as well.
Mattermost supports chats (private and public channels), direct messages, file attachments, has clients for Windows, MacOS, iOS, Android, Linux.
You may build and use bots and set integrations with hundreds of other systems – from Jira and Gitlab to Zoom.
Mattermost uses industry standard open-source MySQL or Postgres database to store the data.
Small business – Mattermost Team vs Slack
If you are just starting or in a situation common in current COVID-19 pandemic time and count every penny cost of ownership is a very important. So let's see how Mattermost looks here.
Mattermost offers a free version called Team. It doesn't have number of enterprise features like compliance support or advanced analytics, but in my opinion provide better functionality than free Slack plan and costs much less than Slack Standard.
Several most important things that I especially like in Mattermost Team:
Unlimited number of users – yes, you don't need to pay $6.67-$8 USD per user. For team of 20 people it saves you over $1,600 USD annually comparing with Slack Standard
Unlimited number of messages stored (you don't have it in free Slack)
Unlimited number of teams (something similar with Workspace in Slack, useful if you run separate lines of businesses or multiple different businesses)
Unlimited number of integrations (comparing with 10 in Slack free)
My ecommerce consulting business uses Mattermost team for around 3 months and the impressions are pretty positive.
The software is stable, we haven't encountered virtually any bugs
The client apps (we tried web, Windows, Android and iOS) are solid
Speed of work is great
The functionality is mostly enough for our needs
Finally, but important for the businesses on tight budget, we run our Mattermost server on $5/month virtual box (you can get it from Digital Ocean (the link is referral, so yes we'll get a commission if you sign up) or other providers. Mattermost has very modest system requirements – official documentation says that 1 vCPU/cores, 2 GB RAM machine can handle 1 to 1,000 users.
Initial installation wan't too complex too (admit we have experienced devops), took just few hours. So comparing with Slack Standard we saved at least $500 per year (with a team size of 10 users).
What is important is that if we decide at some point to upgrade our server to paid plans, Mattermost is still significantly less expensive than Slack, their enterprise plans are $3.5-$8.5 USD per user per month.
So in general Mattermost is a solid replacement of Slack for the business who want ultimate control over data and /or seek for better value for money.
P.S. If you are already on Slack, Mattermost provides a migration tool that helps you to move.
P.P.S. We are not affiliated with Mattermost, just like it.